Research Focus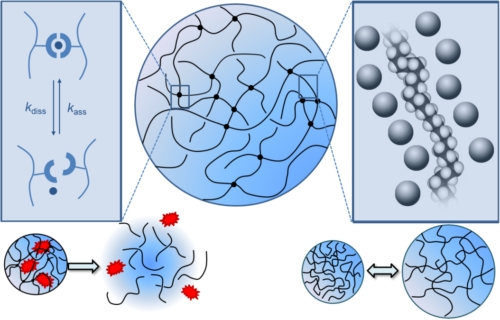 Polymer micogels are soft materials with small size. They serve in various everyday-life applications, and they are also promising candidates for more sophisticated new applications in the future. This is particularly promising for microgels that are subject to a delicate interplay with their surrounding, either by assembly and disassembly of their polymeric building blocks through the action of supramolecular binding, or by selective solvation and desolvation of these polymers by the solvent. To make this all truly useful, it is necessary to understand the mutual interplay between (nano)structure, dynamics, and properties of these fascinating materials. This is what our research is focusing upon.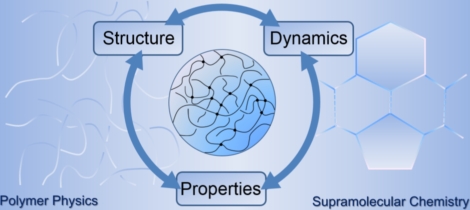 Research Areas
Research Contacts
Recent Collaborations

A. Fery, IPF Dresden
Core–Shell Microgels with Switchable Elasticity
ACS Appl. Mater. Interfaces 2016, 8, 16317–16327.
W. Richtering, RWTH Aachen University
Dynamics in Composite Gels, Microgel Packings, and Core–Shell Microgels
J. Am. Chem. Soc. 2012, 134, 15963–15969.
J. Colloid Interface Sci. 2014, 431, 204–208.
Colloid Polym. Sci. 2017, 295, 1371–1381.
R. von Klitzing, TU Darmstadt
Mechanics of Inhomogeneous Polymer Gels
ACS Macro Lett. 2015, 4, 698–703.
K. Saalwächter, Halle University
Microgel Phase Transitions
Macromol. Chem. Phys. 2014, 215, 1116–1133.
J. Polym. Sci. B: Polym. Phys. 2015, 53, 1112–1122.
D. A. Weitz, Harvard University; R. Haag, FU Berlin
Cell-Laden Microgels
J. Am. Chem. Soc. 2012, 134, 4983−4989.
Angew. Chem. Int. Ed. 2013, 52, 13538–13543.
Adv. Healthcare Mater. 2015, 4, 1841–1848.
B. D. Olsen, Massachusetts Institute of Technology
Microscopic Chain Dynamics in Supramolecular Polymer-Network Gels
Macromolecules 2016, 49, 5599–5608.
Recent and Current Industry Projects

Siemens AG, Berlin, Germany
Polymer-Based Engine Insulators
Procter & Gamble Germany GmbH & Co Operations oHG, Schwalbach, Germany
Polyelectrolyte Superabsorbers
BASF SE, Ludwigshafen, Germany
Microgel Additives for Care Products